Fed by two - FullHD 1920x1080 - (Actress: LadyScarlet  2020)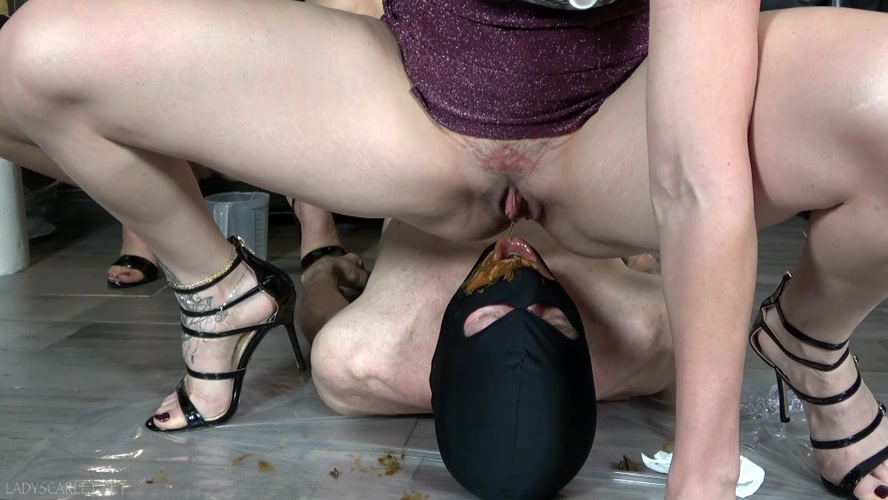 I went to visit my friend Gaia in her dungeon in Rome and after the long journey I needed the bathroom. Sitting on the sofa, she offered me to use her personal toilet. I accepted with enthusiasm! Placed at our feet he talked to me about how he eats shit and how she keeps him in chastity. We laughed at him and teased him, I spat in his mouth, until Gaia ran away from shitting. Removing her panties, she squatted on him and did it all. I watched that lousy toilet take all the shit in his mouth! Except that it was a lot and not all of it. Something fell so my friend took a special spoon to pick it up. What a surprise this too beautiful tool! I grabbed it and started feeding the slave with Gaia's shit. We enjoyed the show seeing this toilet that chewed and swallowed everything until the end. I had a stimulus but he didn't want to go out. So I decided to switch to pissing. We initially thought about making a piss cocktail to give to the slave, but since I was running away too much and my friend still wasn't coming, I crouched on him and pissed in his mouth. One of the first pees of the morning, very intense. He swallowed. Chocolate and champagne of two beautiful Mistresses, what an honor! We left him like this, waiting to soon receive my shit too..
NUTRITO DA DUE
Sono andata a trovare la mia amica Gaia nel suo dungeon di Roma e dopo il lungo viaggio avevo bisogno del bagno. Sedute sul divano, mi ha proposto di usare il suo cesso personale. Ho accettato con entusiasmo! Disposto ai nostri piedi mi ha parlato di come mangia la merda e del fatto che lo tenga in castità. L'abbiamo deriso e punzecchiato, gli ho sputato in bocca, fino a quando a Gaia non è scappato da cagare. Tolte le mutandine, si è accovacciata su di lui e l'ha fatta tutta. Ho guardato quel cesso schifoso prendere tutta la merda in bocca! Solo che era tanta e non c'è stata tutta. Qualcosa è caduto allora la mia amica ha preso un cucchiaio particolare per raccoglierla. Che sorpresa questo arnese troppo bello! L'ho impugnato e ho iniziato a imboccare lo schiavo con la merda di Gaia. Ci siamo godute lo spettacolo vedendo questo cesso che masticava e ingoiava tutto, fino alla fine. Io un po' di stimolo l'avevo ma non voleva uscire. Ho deciso quindi di passare al pissing. Inizialmente abbiamo pensato di fare un cocktail di piscio da dare allo schiavo, ma dato che a me scappava troppo e alla mia amica ancora non veniva, mi sono accovacciata su di lui e gli ho pisciato in bocca. Una delle prime pipì della mattina, molto intensa. Ha ingoiato. Cioccolata e champagne di due bellissime Mistress, quale onore! L'abbiamo lasciato così, in attesa di ricevere presto anche la mia merda.
Duration:
00:12:24
Quality:
FullHD 1920x1080
Format:
MPEG-4
Size:
735 MB
Download in High Quality - Fed by two - FullHD 1920x1080 - (Actress: LadyScarlet  2020)
Genres:
LadyScarlet, scatting domination, femdom scat, shitting, toilet slavery, defecation, scat swallow, shitting porn, poop smear, scat porn