Dirty and Messy Enema in White Panty - G-String, Butt Plug, 4 Days Held Giant Poo - HD 1280x720 - (Actress: nastygirl 2019)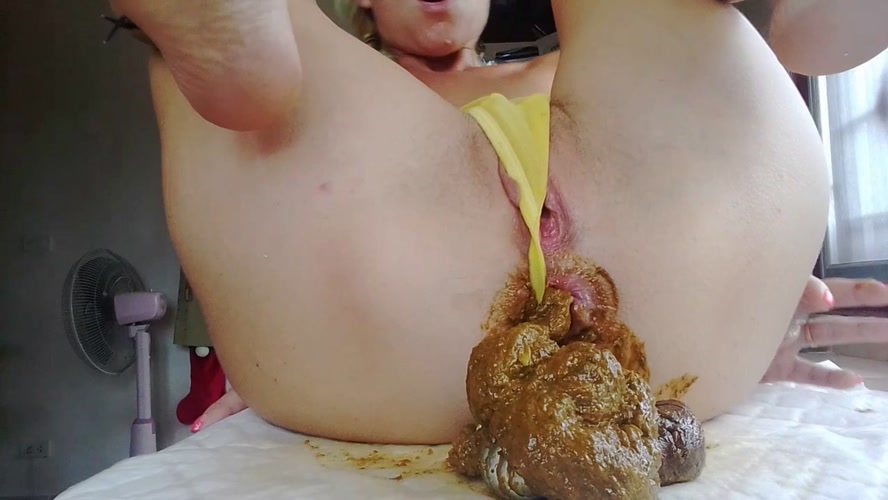 Wearing my well loved white cotton panty. Cute isn't it? Do you prefer to see when it's clean or make it so dirty and messy as I wish? I love being dirty and being your dirty princess, this is what really turning you on. I'm sure I'm right. But today you know what I wanna hear from you many many times? I want to hear you worship every inch of my body even if it's clean or dirty doesn't matter. Just tell me what you love on me? My juicy ass, perky tits, or currently hairy pussy? I want you love every part of my body and if you worship well I give you some dirty presents. ? Show you few times my asshole before give myself enema. Feel have to poo as well but I want to make a huge mess in my pants to giving enema liquid into hole. Go ahead.. Fill my ass with enema liquid and still asking you to love my body and worship because you're so quiet what's mean you're jerking off by chance? I cannot hold my poo so long so turning back to cam and keep my ass close up to cam and the magic is coming. My ass squirting out the liquid and white panty turning to brown. Making big mess very quick. Nice shit and liquid filling this pants. Poo is dripping on the side down on my legs. Stinky poo everywhere. Also peeing through on panty. Such a big mess. Moaning a lot as I really enjoy to pushing more and more poo for you. Also release ass juicy into pants and show you when pull down pants too. Swollen shit covered asshole. Turning front of cam and you can take a look in my shitty hairy pussy too. Can you worship me please well? Why I don't hear you? Worship and love my messy white poo filled pants please, because if you do worship well I will give you more and more dirty things and fantasy in the future. Showing up the dirt on my ass and asshole and at the end take off my pants to hold it in hands and you able to look how adorable them when its shitty as you can see. Would you like more? Great this what I wanna hear but first worship me when I asking you for. Dirty and messy enema poo in panty video. I love the feeling when my ass squirt out the shit and makes some noise, and dripping out more ass juice as well. I'm bending over a lot to get nice view of dirty asshole.
Wearing my nice and yellow tiny G-string and black metal butt plug into my ass. I love it and you? Fitting into my ass and feel so good. But I have to shit as I didn't poo in the last 4 days so can you imagine what I feel right now? I show off my yellow tiny panty and butt plug, teasing you by them, then laying on back lifting up legs and start to playing with plug. I wanna pushing out and you able to see my open wide hole. Pushing out and it's already get some shit on it. Put it back again but this time I cannot hold the plug and poo and want to release them. I pushing out trying slow and drop out the plug but I leave the string on then coming out a giant 4 days held poo. Seriously color of poop matching with the panty's color ? Nasty and real huge shit. Try to push out more and also peeing a lot. At the end show you the shit covered butt plug and my beautiful shit. I bet you wanna being here in the room with me right now, don't you?
Duration:
00:24:41
Quality:
HD 1280x720
Format:
MPEG-4
Size:
1.06 GB
Download in High Quality - Dirty and Messy Enema in White Panty - G-String, Butt Plug, 4 Days Held Giant Poo - HD 1280x720 - (Actress: nastygirl 2019)
Genres:
scat solo, scat, defecation, scatology, poop, shit, kaviar scat, pooping girls, shitting girls, shitting ass, scat girls, poop videos, amateurs scat, dirty anal, scat porn